Forthcoming Ecclesfield events are listed at ecclesfieldgroups.co.uk This page documents the talk given by Ruairidh (Rory) Greig in Ecclesfield Library on 29th October 2014 on the history of:
wassailing, first footing, collop monday, plough monday, mumming, and other local traditions
Entitled:
"HOUSE-VISITING CUSTOMS IN ECCLESFIELD AND BEYOND"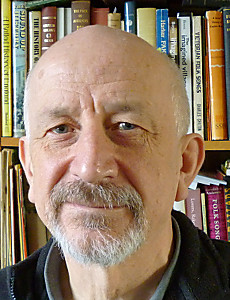 Summary:
Nowadays we're used to carol singers coming round knocking on the door, but a hundred years ago you might have opened the door to any number of groups who were after your money! So if you want to learn about Mummers, The Old Tup, Jolly Miners, Poor Old Horse, the "Doll in the Box" and many more groups which used to prowl the streets of Ecclesfield and area a century ago.

Click on this link to read the lines of the "Old Tup" play, and see the words of the song
Ruairidh Greig:
Ruairidh Greig is a published author and Master of Philosophy from Sheffield University whose passion is capturing historic local traditions from the North of England. Since the 1960?s Ruairidh?s work has included collecting songs from retired farm workers and recording local customs and traditions that would otherwise be lost to us. Ruairidh is a member of the National Centre for English Cultural Tradition, dedicated to the collection and study of English folklore, tradition and language. Ruairidh?s contribution to their work includes collecting a number of previously unrecorded folk plays in the Hero-Combat, Old Tup and Old Horse tradition as well as capturing a variety of other local calendar customs.
This event was put on by:
"The Friends of Ecclesfield Library CIO"
129a High Street
Ecclesfield
SHEFFIELD
S35 9UA