| | |
| --- | --- |
| Ecclesfield Street Dusters | (Acting and campaigning against litter and graffiti in Ecclesfield Village) |
PAST EVENTS
Summer 2016 litter pick

---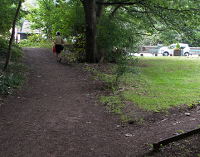 One band of merry litter pickers tackled the park, while others tackled the Ladycroft foot path, and stream. The results were really worth it, as you can see from the photograph.
We thank our local co-op for taking the rubbish, without which disposal would have been difficult.
Spring 2016 litter pick

---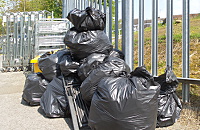 Postponing the Street Duster's spring litter until 7th May ensured a fine sunny day, and allowed
25th Ecclesfield Scout and Beavers
to join us
Summer 2015 litter pick
---
This year's summer litter pick was particularly easy. This was partly because the
"Parks Group"
cleaned up Ecclesfield Park, enabling us to concentrate on the High Street, Ladycroft and other areas, and partly because the village was noticeably tidier than on previous litter picks. I don't know whether we have the people who I know regularly pick up rubbish to thank for this, or whether we have all become tidier. Whatever the reason, because of it we had time to do some pruning to make the paths from St. Marys Lane down to the Park more accessible.
---
We had great time on 20th September 2014. The ground was muddier, and the litter was heavier than usual, but lots of litter was collected, so an extra thank-you is deserved by everyone who took part.
We have just noticed that Hartley Brook is to be cleaned up, with "All Welcome" events on Wednesday 12th March and Sunday 16 March 2014, as part of Sheffield City Council's "big-community-clean-up" at "tongue-gutter-hartley-brook-ecclesfield-road".
Insurance

---
We have now arranged for commercial insurance following the closure of Sheffield's Bloom, Education and Environment team.
Autumn 2011 litter pick

---
Our autumn litter pick was on 2011-10-29 (Saturday). If anybody took photos, and emails them to ecclesfield@gmail.com, then we will put them up here

Spring 2011 litter pick

---
| | | | | | |
| --- | --- | --- | --- | --- | --- |
| The team assembles ... | | ...bags the rubbish ... | | ...and finally, gets a result. | |
---
We are pleased to note that A E Transport have cleared the bricks from their yard near the railway bridge on Butterthwaite Lane, and that the Council have put a notice up on the Lane reminding people of the £20,000 fine for fly tipping. Our thanks to both organisations.

We know that there is other rubbish near the bridge and have seen reports of two incidents, including one where the driver got a glass shard in the eye when a missile was thrown at a train. However, the area is outside our main area of concern, (

I.e. the Village of Ecclesfield

), and some of the rubbish is heavy and difficult to dispose of, so we are unlikely to be able to do anything further. However, if any MP is reading this, they may want to consider changing the law to so that Councils do not have to spend time looking up the ownership of land before deciding whether they can clear it or not, or that Network Rail can remove rubbish which they consider could be a threat to their trains.

The last

Summer Litter Pick

was on 21st August, 2010.
The last

Spring Litter Pick

was on 17th April, 2010.
The Ecclesfield & Grenoside Community Safety Group have asked that any drug sharps [I.e. needles] be reported to Sheffield City Council Streetforce on 2734567 [rather than attempt to dispose of them yourself].


Battery recycling:

Morrisons Supermarket have told us that their new in-store battery recycling bin takes zinc, alkaline, and mercury button cells; as well as rechargeable (e.g. phone) Nickel Metal Hydride (NiMH) batteries, and the old Nickel Cadmium (NiCd) cells. It is especially important for very old batteries and all button cells to be kept out of incinerators/landfill, to keep their brain-toxic mercury out of our food

.

(

A battery recycling box has also appeared in the Co op on the High Street

)
Other recycling information can be found on Veolia's web site.
The autumn litter pick is scheduled for Saturday 17th October 2009. Meet outside to co-op at 10:00. The old garage site, renamed "St. Mary's Green" isn't looking bad, but we might pick Ecclesfield Park and Green Lane.

A mini-litter pick has been arranged for Monday 20th July 2009 - Meet outside the stocks at 10:00 am to clean up the area being judged for Ecclesfield in Bloom.
Our Summer litter pick is scheduled for...
Saturday 25th July 2009 at 10:00 outside the Co-op.
Don't rely on it for meeting dates etc. but there is now an unofficial "Street Dusters" (ex. "Scrubbers") site with photographs of the mini-litter pick on Saturday 20th June 2009 at http://ecclesfield.wikia.com/wiki/Scrubbers
Click here or here for pictures from the litter pick on 4th April 2009
Another car has appeared in Hartley Brook, at the Cricket Lane bridge. Streetforce are arranging to have it removed - now done.

Our Thanks to South Yorkshire Passenger Transport Executive for giving permission, and to Morrisons Supermarket for providing the cardboard boxes needed for us to remove the glass from the damaged bus shelter.
We are pleased to report that the fridges on Butterthwaite Lane have been removed, after reporting them to Sheffield City Council (on 0114 2734567).
The tyres at the side of the line near Woolley Wood have gone. Click here to report any new railway problems.
We have done a concentrated litter pick on the Ladycroft access to Ecclesfield Park. For pictures click on... Before, During, or After.
For posters for our 2008 Litter pick Click here or Click here
If you want to be kept informed, or know of any litter or graffiti problems in Ecclesfield Village, then please email us at

---